The average price of a new car crossed the $40,000 mark in 2020. With that much money at stake, the right auto insurance becomes essential. But what does auto insurance cover?
Compare Insurance Rates
Ensure you are getting the best rate for your insurance. Compare quotes from the top insurance companies.
Without insurance, even a minor accident can cost thousands in repairs. But your auto insurance policy covers much more than fender benders.
With the right coverage choices, your car insurance can protect you in ways you may not even realize.
The policy options you choose determine which risks your auto insurance covers. Your policy can protect against risks ranging from a chipped windshield to a multi-vehicle accident. Your auto insurance can even cover medical bills or legal expenses related to auto accidents.
Auto insurance in a nutshell
Insurance is the transfer of risk. Most of us can't easily afford to replace a $40,000 car. Lawyer fees and medical expenses after an accident can add up as well.
Insurance takes the risk away from the individual and spreads it out amongst a group. Everyone pays a premium for coverage, but most of us won't experience a claim during the policy period.
If you have a claim, your policy pays based on the coverage choices you've made.
For auto insurance policies, most insurance companies base premiums on a 6-month policy term. Full-year policies have become less common.
At the end of the policy term, you can renew your policy with your insurance company. Your renewal happens automatically in most cases.
In most states, you'll find dozens of insurers to choose from, so you can change providers if needed. Some drivers can get a better rate or more flexible coverage options by switching insurers.
You can also adjust your existing coverage. Sometimes it makes sense to bump up coverage limits or customize your policy to meet your current needs.
Life changes and your auto insurance coverage can change as well.
Why do we need auto insurance?
Nearly every state requires auto insurance by law. However, state rules only require 1 or 2 types of coverage.
Liability insurance is the most common requirement, followed by coverage for medical expenses. Not all states require the latter, and rules can vary from one state to the next.
Liability refers to our financial responsibility for someone else's loss. For example, imagine that you hit the neighbor's car when backing out of your driveway. Accidents happen.
However, now your neighbor faces an additional expense to get their car fixed. In this case, the neighbor had no fault in the accident. Luckily, your auto liability coverage can pay to get your neighbor's car repaired.
Some people still choose to handle minor fender benders directly and work out the repair costs amongst themselves. But this isn't practical for more significant losses. It's also not always wise when you don't know the other party involved. Instead, your insurance policy can offer a safer option.
Potential losses don't stop with fender benders and broken headlights. Auto accidents often cause injuries. Car accidents are also rank amongst the leading causes of leading death.
Medical expenses and legal fees can add up to much more than the cost of repairing a vehicle. Auto-related liability can reach 5 or 6 figures or even more. But with the right insurance coverage, you can protect yourself.
Lenders require specific types of auto insurance coverage
Lenders often require borrowers to carry collision and comprehensive insurance. These 2 coverages can help pay to repair or replace a car if the car suffers physical damage.
With a loan or a lease, your car acts as collateral for the loan. So, these coverage types protect your lender's financial interest in the vehicle.
After you've paid off your car, you can drop comprehensive and collision coverage because there's no lender requirement anymore. However, it may make more sense to keep this coverage in place for a while.
Compare Insurance Rates
Ensure you are getting the best rate for your insurance. Compare quotes from the top insurance companies.
Weigh the cost of coverage against the expense of replacing the car.
Each state governs its own insurance rules
You might expect insurance to fall under federal jurisdiction, but each state sets its own rules regarding insurance.
Fortunately for consumers, most states take similar stances regarding insurance. So, you may not see much difference from one state to the next.
There are a few areas in which states go their own way, however. For example, some states use or even require personal injury protection (PIP). Personal injury protection can help pay for your medical expenses if you're injured by an automobile. PIP coverage can extend well beyond medical expenses, as explained in the section below.
Some states don't offer PIP at all. Instead, many of these states provide a streamlined option for medical payments called MedPay.
You'll see state-by-state differences in minimum liability requirements for auto insurance policies as well. Policy structure for liability coverage can also vary depending on the state.

Understanding auto insurance: basic parts of an auto policy
Your auto insurance policy protects you in several ways. But your state or your lender may require specific coverages, while others are optional.
However, choosing optional coverages to protect your car can be a smart decision.
Auto liability insurance
Bodily injury liability: As its name suggests, bodily injury liability covers the cost of injuries to others.
Property damage liability: Your property damage coverage can help pay for damage to other vehicles. It can also cover damage to other types of property.
Medical payments coverage and personal injury protection
MedPay: Medical payments coverage offers a way to pay for your injuries you suffer in a car accident.
Personal injury protection (PIP): Personal injury protection can help cover medical care costs for injuries. But PIP can also cover related expenses such as lost wages because of an injury.
Uninsured/underinsured motorist coverage
Uninsured motorist coverage: If another driver without insurance injures you or damages your vehicle, your policy can help. Uninsured motorist coverage can cover your loss and expenses up to your coverage limits.
Underinsured motorist coverage: The other motorist in an accident may not have enough insurance to cover their liability. Underinsured motorist coverage provides a way to pay for your expenses with your policy.
Physical damage coverage
Collision coverage: The collision coverage on your vehicle protects against damage from collisions or rollovers. Your auto policy's collision coverage can help cover the cost of repairs to your car.
Comprehensive coverage: Some insurance agents refer to comprehensive coverage as "other than collision" coverage. This description is accurate because comp coverage pays for damage to your vehicle caused by reasons other than collision. For example, fire or theft claims would fall under comp coverage.
Auto liability insurance
Nearly all US states require auto liability coverage.
It's often easier to think of liability insurance as coverage for other people. If you cause an injury to someone with your vehicle, your liability insurance can help cover the loss. Liability insurance also covers damage to someone else's property.
Liability insurance covers 2 types of liability (bodily injury and property). You'll find different liability limits for each type in some states. You'll also find per-accident limits.
For example, the minimum liability insurance limits for a standard policy in New Jersey are:
$15,000 / $30,000 / $5,000
Let's decode these numbers.
In this example, the policy provides $15,000 in bodily injury liability coverage per person. However, the policy offers a $30,000 total coverage per accident. The $5,000 limit refers to property damage liability coverage.
Your liability insurance also includes the cost of legal representation if needed. This expense alone can break the budget in many households if sued following an accident.
As an extra benefit, the cost of your legal representation exists outside the limits of your coverage. The cost for your legal defense doesn't affect the amount of coverage you have available.
For example, let's say you have a $50,000 liability limit. Your insurer spends $5,000 on your defense. You'll still have up to $50,000 available to cover damages because your defense costs are outside your policy limits.
Auto insurance bodily injury liability
The bodily injury liability insurance on your auto policy may be the most important part of your coverage. This coverage can pay for injuries caused to others. But it can also cover related expenses, such as lost wages for the other party.
Medical care costs continue to rise. If everyone is lucky, drivers and passengers escape injury altogether or only suffer minor injuries in an auto accident. But sometimes, injuries can require extensive care. In some situations, medical expenses for others can exceed your coverage limits.
If your actual liability exceeds your liability coverage limit, you may become personally responsible for the remaining amounts.
Consider a situation in which you have $15,000 in bodily injury liability coverage per person. You have an accident, causing $50,000 in bodily injury expenses. The remaining amount of $35,000 can drain your savings. In some households, the liability can force the sale of assets or threaten your future earnings.
Now, imagine an accident that leaves several people severely injured. In this case, your liability could exceed your policy limits by a considerable amount.
Sometimes, drivers choose a lower liability coverage amount because it's less expensive. Often, insurers offer the lowest cost option first when quoting policies. But it's important to know you can change the liability insurance limits for your auto policy.
You can customize your policy to protect yourself better.
Auto insurance property damage liability
Your auto Insurance policy also includes coverage for property damage liability. In most cases, property damage is limited to damage to other vehicles involved in the accident. However, property damage can also include things like guardrails, mailboxes, or traffic signs.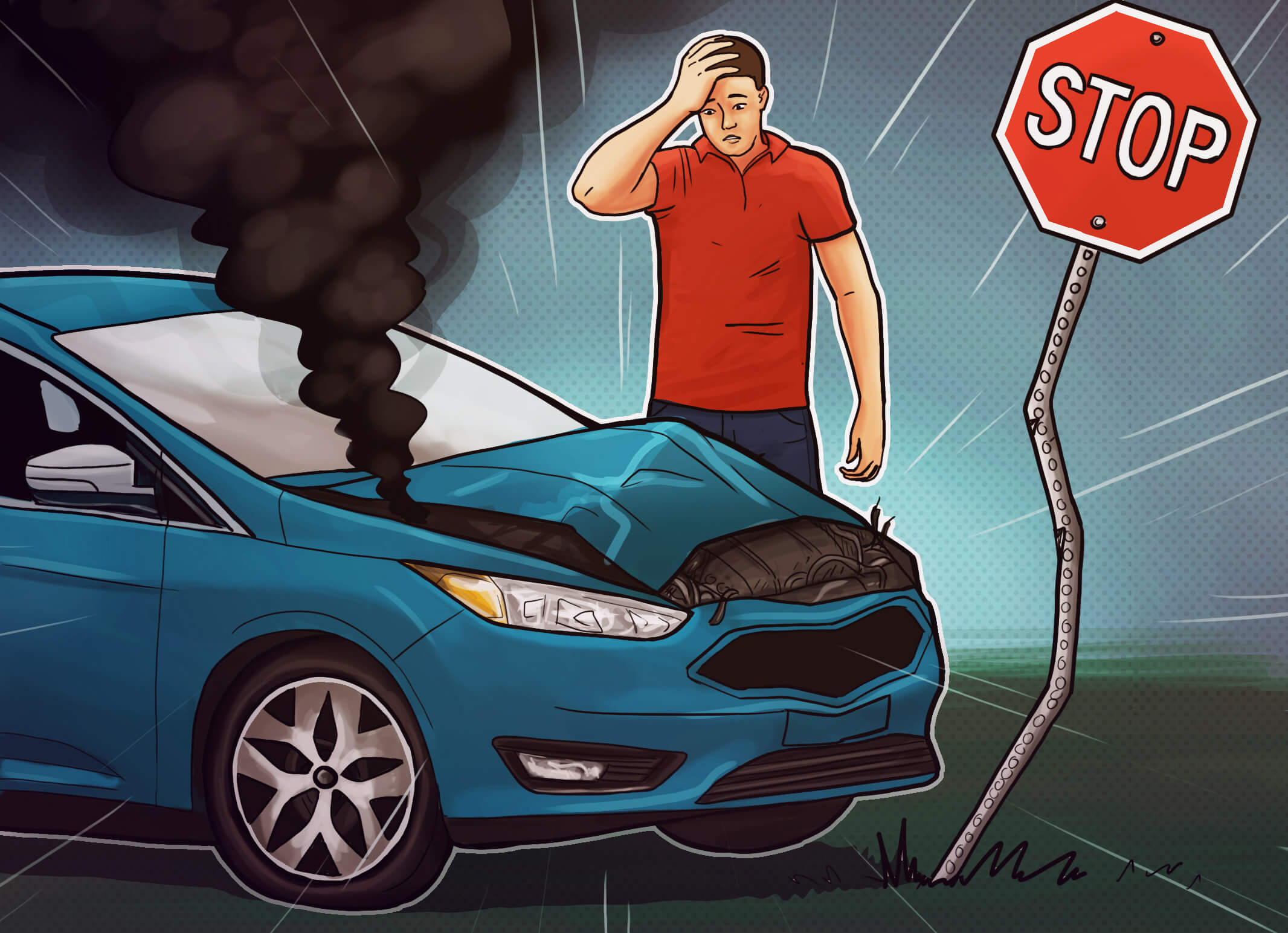 For example, let's say you hit a traffic light pole in an accident. Don't be surprised if the municipality sends you a bill for the repair.
Property damage liability coverage on your policy can help pay for accidental damage to the property of others.
In the example from earlier, which showed NJ's minimum liability limits, the property damage liability limit was only $5,000. Average used car listing prices now top $20,000. As you can see, the minimum liability limits may not provide enough protection.
Medical payments and personal injury protection
Because each state governs insurance rules within its borders, coverage options can vary from one state to the next. How your policy covers your injuries is one example of how insurance rules change across state lines.
Some states only offer a slimmed-down medical payments coverage called MedPay. Other states provide personal injury protection (PIP) as an option, which brings more coverage options.
Your auto insurance liability coverage helps cover the cost of injuries to others. MedPay and PIP address your injuries or injuries to others in your vehicle.
Invest some time in choosing medical coverage for your policy. For drivers without health insurance, in particular, making the proper medical care choices on your auto policy becomes vital.
Your auto insurance policy may be the best way to pay for medical care after an accident.
Auto insurance medical payments coverage (MedPay)
Short for medical payments coverage, MedPay does what its name suggests. Your MedPay coverage can pay for medical expenses related to injuries to you or your passengers.
One example of how insurance rules can change state-by-state compares Florida to neighboring state Georgia.
Florida requires PIP coverage, whereas Georgia doesn't require any medical coverage on your auto insurance policy.
Georgia offers MedPay as an option but does not force motorists to purchase the coverage.
Expect MedPay coverage limits to trend lower than maximum PIP limits. Typically, MedPay policies provide up to $10,000 in coverage for medical expenses. However, in some states, you can purchase MedPay coverage of up to $50,000.
Your MedPay can also pay for funeral expenses, although auto fatalities are now less common. Auto fatalities as a percentage of the population measure less than half compared to a few decades ago.
Auto insurance personal injury protection (PIP)
In the US, we have both at-fault states as well as no-fault states. In no-fault states, you place the claim for medical care with your own insurer. The PIP coverage on your policy governs your care.
This structure applies regardless of who is at fault in the accident.
You'll also see PIP coverage referred to as no-fault insurance. However, it's essential to understand that the no-fault designation only refers to medical care. For other types of claims, who is at fault can play a role in how insurers handle the claim.
PIP coverage includes medical care if a vehicle injures you. But PIP can bring other benefits, such as coverage for lost income as well as funeral costs, as needed.
In some states, you can make your existing health insurance your primary provider for auto-related injuries. This selection can save you money on premiums. However, not all health insurance plans work with this structure.
For example, many people have Medicaid or Medicare. If you have PIP, neither of these plans can become a primary medical care provider for your auto policy.
If you have PIP coverage, your PIP applies anytime an automobile injures you.
Imagine you're riding your bicycle near your home. A distracted neighbor knocks you into the bushes with their car. You escape significant injury, but you'll need some basic care and X-rays. Your PIP coverage can pay for your medical care.
However, if you have assigned your health insurance as your primary care, your PIP becomes secondary. Instead of paying medical expenses, PIP can pay for other related expenses, such as lost wages.
Uninsured/underinsured motorist coverage
According to the Insurance Information Institute, about 1 in 8 motorists does not have insurance. Uninsured drivers offer a solid reason to protect yourself with your own policy.
But underinsured drivers can also cause concern.
Just over a dozen states require uninsured motorist coverage (UM) and underinsured motorist (UIM) coverage. Other states make these coverages optional.
Uninsured motorist coverage (UM)
If you're involved in an accident with an uninsured driver, your auto insurance policy can help cover your losses. Some states mandate uninsured motorist coverage, whereas other states require that insurers make the option available.
When required, expect minimum limits to parallel the coverage limits you've chosen for your auto liability coverage.
Underinsured motorist coverage (UIM)
The average auto insurance collision claim costs about $6400. Bodily injury claims top $18,000 on average. Compare those figures against the minimum liability coverage levels in some states. It's easy to see why some motorists are underinsured.
For example, in California, the minimum property damage liability insurance is $5,000. Compared to the average property damage claim of $6,400, California drivers with state minimum coverage are underinsured.
The same applies when comparing the average bodily injury claim of $18,000 to the CA state minimum of $15,000. Underinsured drivers are a more significant concern than many of us realize. But with UIM on your policy, you can protect yourself against losses.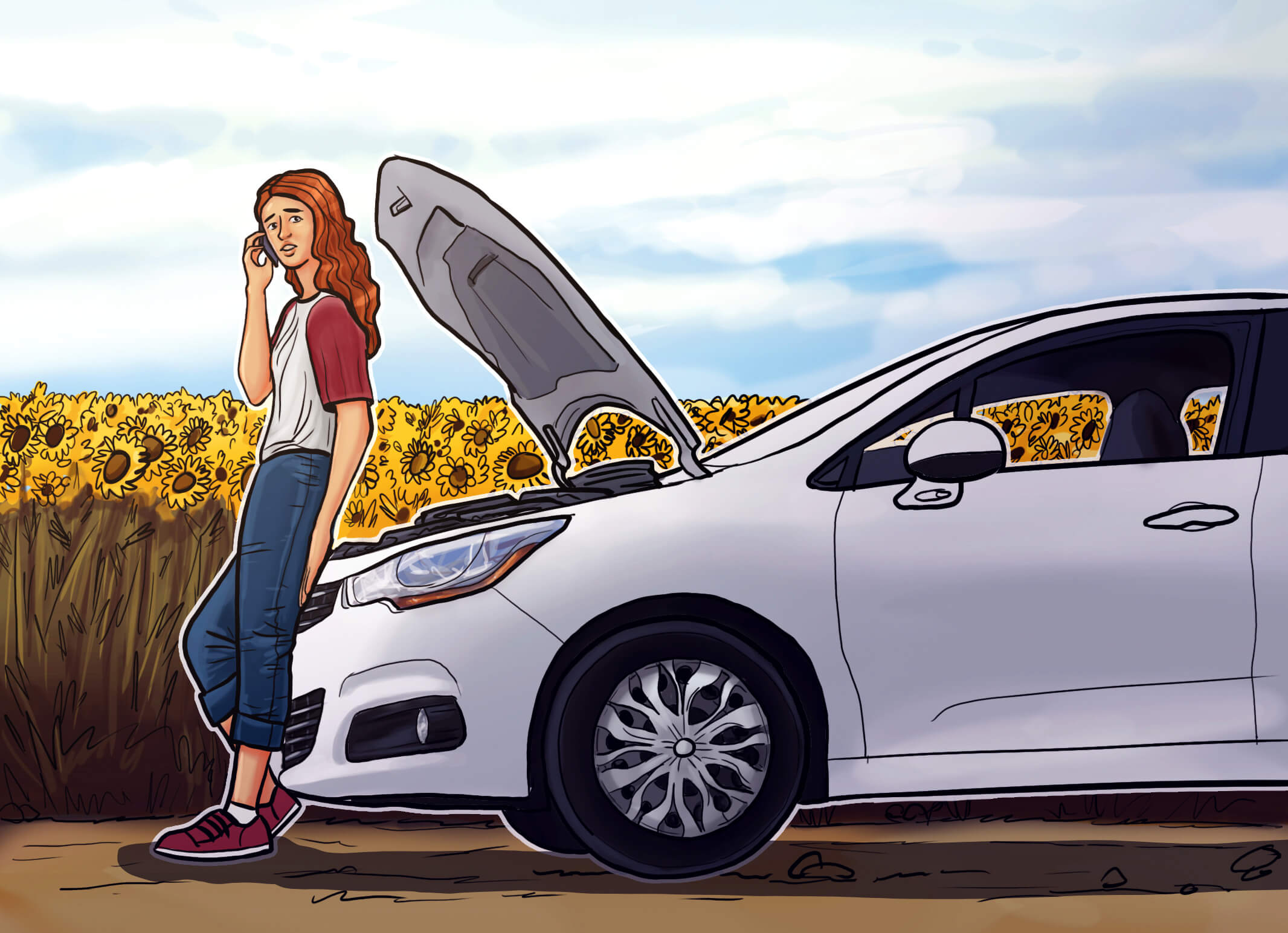 Physical damage coverage
Most states require liability coverage. Auto lenders require physical damage coverage. The combination of these coverage groups is called full coverage. Over 70% of auto insurance policies provide full coverage.
Physical damage coverage includes both collision and comprehensive coverage, but you can select each coverage option independently.
Lenders, however, typically require that you carry both comp and collision if you still have a loan balance. Lease vehicles also follow the same requirements.
For most auto policies, insurers use a coverage structure called actual cash value to insure against physical damage losses. With actual cash value, your policy insures your car up to its market value, taking a depreciation deduction.
For example, let's say you paid $40,000 for your vehicle. It's common to think your policy insures your car for the amount you paid. However, actual cash value considers your actual loss.
If you've used the car for a few years, it's no longer worth the amount you paid when new. In effect, you've already used some of the car's value.
Carfax estimates that a $40,000 vehicle will be worth about $16,000 after 5 years. Auto insurers use a more complex calculation to determine actual cash value, which also includes market comparisons. However, you can expect your vehicle's insured value to track average depreciation rates reasonably closely.
In most cases, the cost of repairing your vehicle is lower than the insured value. So, the insurer pays to repair your car in a covered claim. If the cost to repair your vehicle approaches its insured value, the insurer deems the vehicle a total loss.
The insurer pays you the car's insured value in a total loss rather than fixing the car. If a lender your policy lists a lender, the lender may receive the payout instead.
Collision coverage
Your auto policy's collision coverage can pay for damage caused to your vehicle due to contact with another vehicle. Your collision coverage also protects against damage caused by rollovers or contact with a stationary object.
In short, collision coverage can pay to repair damage to the vehicle caused by an auto accident. Collision coverage protects against some of the costliest types of damage. But it also limits its scope to a narrow set of circumstances.
Comprehensive coverage
Collision claims can be costly, but vehicles can suffer damage in other ways as well.
Sometimes, you can lose an entire car or truck. If your vehicle goes missing, your policy can help. Yes, comprehensive coverage covers theft.
Comprehensive coverage also covers damage caused by vandalism, fires, floods, and falling objects. Some agents and insurers still refer to comprehensive coverage as "other than collision" coverage because of its broad scope.
Comp coverage on your auto insurance policy can also cover broken glass. Many insurers offer basic glass repair at no charge if you get a chip or crack in your windshield. If a window or windshield needs to be replaced, your comprehensive coverage can also pay for the repair. However, you may have to pay a deductible.
Broken glass caused by a collision falls under your collision coverage. But windshield damage caused by hail falls under comp coverage. Physical damage coverage follows the cause of the damage rather than the part of the vehicle that's damaged.
If you have an older vehicle, collision coverage may not hold as much value compared to its monthly premium. However, comprehensive coverage often makes sense even with older cars because coverage costs are low by comparison.
Other optional coverages
Your insurer may offer some other options in addition to your policy's standard coverages. Some of these options aren't insurance according to the strictest definition. But these options often pair well with standard auto insurance to provide additional protection.
Gap insurance
Earlier, we discussed actual cash value, which takes a depreciation deduction. This insuring method can leave a gap between a vehicle's insured value and its loan balance.
You might still owe money on a car you no longer have if the vehicle suffers a total loss.
It isn't unusual for borrowers to be upside-down in the loan in the early years of an auto loan. To be "upside-down" refers to owing more than the car is worth.
This situation resolves itself as you make more payments. But borrowers can have a brief period where the vehicle isn't fully insured compared to the loan balance.
Gap insurance addresses this concern. Gap coverage can pay the difference if your car gets totaled and you still owe a loan balance. Some insurers—but not all—offer gap insurance as an add-on to your coverage. But it's best to think of gap coverage as a separate product from your insurance policy.
You can also purchase gap coverage from auto lenders or credit unions. If you've ever used dealer financing for another purchase, you probably discussed gap coverage with the finance office.
Gap coverage uses the formal name of Guaranteed Auto Protection (GAP).
While it's unusual for lenders to require gap coverage, some borrowers see value in the product.
Rental reimbursement coverage
Most auto insurance policies offer an option for a rental car allowance. If your vehicle is out of service while being repaired, your policy can help pay for a rental car. However, this coverage only applies when your need to rent a car because of a covered claim.
You choose a coverage limit. When you need to rent a vehicle due to a claim, your insurance provider pays up to your chosen limit for your rental.
In most cases, rental reimbursement coverage does not cover cars rented for travel. Let's say you fly to Florida and rent a car to drive around the Sunshine State. The rental reimbursement coverage on your insurance policy will not cover the cost.
Rental reimbursement coverage only applies if you have a covered claim.
However, your auto insurance policy can provide limited physical damage coverage for a rental car in some situations.
For example, let's say your vehicle is in the shop for a transmission overhaul. You rent a car to get to work. Your auto policy can also protect the rented car. If you have collision coverage on your own vehicle, you'll also have collision coverage on the rental vehicle. Liability coverage transfers as well.
This coverage for rentals exists regardless of whether you choose rental reimbursement coverage on your auto insurance policy.
Roadside assistance
Some insurers also offer roadside assistance packages. If you break down or get a flat, you can call your insurer's road service number. Most insurers partner with nationwide service networks to help get you back on the road or tow your vehicle.
[ Insert picture here. Please use a woman standing outside her car while using her cell phone to call road service. The hood of her car is open, showing engine trouble. ]
Compare the details of your insurance roadside assistance to other providers. This add-on isn't an insurance product, and you can purchase similar services from other providers such as AAA.
How does a deductible work?
The deductible is the part of the insurance claim you pay. Insurers use deductibles to focus coverage on larger claims and keep premiums more affordable.
When you purchase your insurance policy, you choose a deductible amount for specific types of coverage.
Liability coverage does not use a deductible. But you'll find deductibles for collision and comp coverage.
If you live in a state that offers PIP, you may also have a deductible for your PIP coverage.
You can use a deductible to manage the cost of your auto insurance premiums. A higher deductible can mean lower premiums, whereas a lower deductible can add to monthly insurance costs.
Be sure to choose a deductible that fits your budget, though. If you have a claim, the deductible is out-of-pocket money you'll have to pay toward the repair.
Collision deductible
Collision deductibles start at $500 with many insurers. However, the default deductible may be a higher amount, such as $750 or even $1,000.
For example, imagine you have a covered claim with $5,000 in damage to your car. The car is worth about $10,000, so the insurer pays for the repair.
If you have a $1,000 collision deductible, though, the insurer will only pay $4,000 of the $5,000 claim.
Comprehensive deductible
Comprehensive insurance uses its own deductible, often with much lower deductible requirements when compared to collision coverage. For example, many insurers offer comp coverage with a deductible as low as $100—or even $0.
A lower deductible can add to the cost of the policy. But with comprehensive coverage, this is less of a concern because the coverage is so inexpensive.
PIP deductible
If you live in a state that uses PIP, your policy may also use a separate PIP deductible. Again, choose your PIP deductible carefully. If an automobile injures you, the PIP deductible becomes an out-of-pocket expense.
Who does my policy cover?
In most cases, auto insurance follows the car (not the driver). This rule of thumb means your auto coverage can protect you when someone else is driving your vehicle.
Your auto insurance policy covers other drivers listed on your policy. But your policy also covers permissive use, which refers to drivers who have permission to use your vehicle.
This broad coverage protects you for occasional use. But if someone borrows your car regularly, your insurer may require that you add that person to your policy.
What is an insurance exclusion?
Insurance policies don't cover everything, and auto insurance policies use a list of policy exclusions. Insurance exclusions refer to risks your policy won't cover.
Expect to find risks like racing or intentionally caused damage listed as auto insurance exclusions.
Business use
A standard auto insurance policy address is personal driving risks. For business use of your vehicle, you may need an add-on that insurers your business use case. In some situations, you may need a separate policy.
If you use your vehicle for business, discuss your coverage needs with your agent. For example, a standard auto insurance policy won't cover vehicles used to deliver products. However, you may be able to purchase an add-on to protect yourself.
Rideshare use
Lyft and Uber have become popular ways to earn extra money. But auto insurance for rideshare work can be tricky. The industry has adapted in recent years, though. It's getting easier for rideshare workers.
Now, many insurers offer a policy add-on for rideshare usage. This add-on can pair with insurance provided by the rideshare company to protect you at every step.
Does auto insurance cover personal property in my vehicle?
Your auto insurance policy doesn't cover losses for personal property that is not a part of your vehicle. Instead, your homeowners insurance or renters policy can protect your belongings.
Am I covered if I buy a new car?
Most insurers cover a new car purchase automatically if you already have an auto insurance policy. However, it's wise to contact your insurance company to ensure you have the proper protection.
For example, if your existing insurance policy only covers liability, your new car will just have liability coverage. You'll want to add collision and comprehensive coverage as well.
Compare auto insurance rates, but also compare policy features
Your car insurance protects more than just your car. Your policy can also protect your savings with liability coverage and send help if a breakdown leaves you stranded.
When shopping for the best auto insurance rates, take the time to compare policy features.  
Your insurance is an investment in protection. By comparing policies, you can find the right coverage at a price that won't break the bank.