The cost of living in the US has increased by 15% in the past decade. But car insurance skyrocketed by over 40% during the same period. Rising auto insurance costs have many drivers searching for more affordable rates. We gathered some of the cheapest car insurance providers below.
Compare Insurance Rates
Ensure you are getting the best rate for your insurance. Compare quotes from the top insurance companies.
Is the cheapest car insurance the best choice?
Insurance protects us against large financial losses that can be difficult to predict. If the risks associated with driving were always small and predictable, we wouldn't need insurance at all. Accidents happen, though. And often those accidents can be costly. The average auto insurance bodily injury claim approaches $16,000. Property damage claims average another $4,000, with many claims reach much higher in each category.
An auto insurance policy can protect against auto-related losses, but the cheapest auto insurance may not always be the right choice. Some car insurance policies can require compromises in coverage levels or policy features.
Saving money is vital in many households. Protecting your finances is also important, however, and you may have to look for a balance between these priorities. The cheapest car insurance may not align with your goals of protecting your family. But there's also no reason to overpay.
Often, you can find lower rates without sacrificing the coverage you need.
Do I qualify for the cheapest car insurance?
Auto insurance rates reflect risk. If you're a new driver or have a spotty driving record, you'll often see higher rates. If you've had a recent at-fault accident, you can also see higher rates. More severe driving incidents like a DUI conviction often affect rates as well as eligibility with some insurers.
Credit also plays a prominent role in rates in most states. California and a small handful of other states restrict the use of credit scores in setting auto insurance rates. However, throughout the rest of the country, credit scores can affect insurance rates, and sometimes dramatically.
The good news is that not all insurers give credit history the same weighting. Drivers with a less-than-perfect credit history can consider GEICO or Nationwide Insurance, both of which have some of the lowest rates for drivers with poor credit. Some may also have success with Progressive. But other well-known providers may not be as forgiving when it comes to drivers with poor credit histories.
In most states, drivers with a spotty credit history won't qualify for the cheapest car insurance rates. Rates won't change dramatically with a handful of insurers, though. The difference in cost can still be affordable, even if you've had some blemishes on your driving record.
However, a break in coverage can also affect rates. Many major insurers look for 3 years or more of uninterrupted coverage. Without a solid coverage history, you may not qualify for the cheapest car insurance rates.
Cheapest car insurance companies
Insurance companies weigh rating criteria differently. An insurer with reasonable rates for young drivers may not have the lowest rates for those with a blemished driving record. Many experts recommend comparing multiple quotes because the differences in cost can be dramatic.
Best auto insurance rates for young drivers: Travelers
Travelers Insurance brings outstanding value and more comprehensive protection with coverage options for nearly every personal insurance need. This NY-based company also offers competitive rates for younger drivers. Insurers of all sizes can be tough on less-experienced drivers, often bumping rates up for drivers under age 25.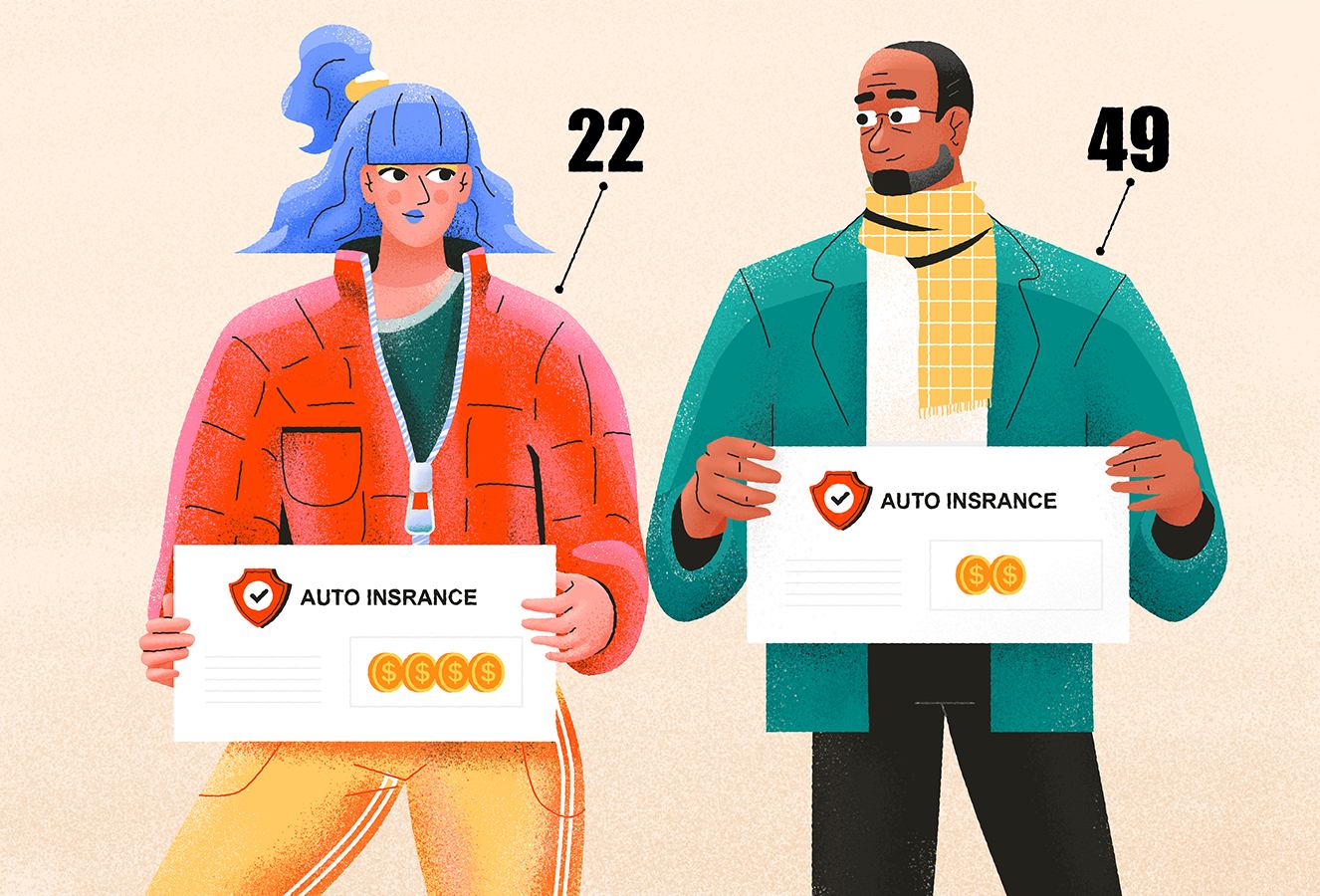 Travelers Insurance sells personal and business insurance in most states through its network of independent agents. You'll also find ways to bundle your coverage with home or renters insurance.
Rates can vary based on dozens of factors. But if you're younger and need coverage, consider getting a quote from Travelers.
Best auto insurance rates for experienced drivers: GEICO
Voted Highest Customer Satisfaction Among Auto Insurers in 2 US regions in JD Power's survey, GEICO combines award-winning service with affordable premiums. Experienced drivers with a clean driving history often find lower auto rates with GEICO.
Earn extra discounts for safety equipment, customer loyalty, and staying accident-free. GEICO also offers savings for multiple vehicles as well as multiple policies.
Best auto insurance rates for military families: USAA
Started in 1922 by army officers who pooled their resources to insure each other's vehicles, USAA has grown into a nationwide financial services provider. USAA offers several types of insurance to its members, focusing membership on military members and their families.
Stack your discounts with USAA to save more. USAA offers loyalty discounts, new car discounts, and more. The company also provides an additional discount of up to 20% for completing its safe driving program.
USAA makes an excellent choice for homeowners (and renters). Bunding home and auto policies with USAA can save up to 10% on your home insurance policy.
Best auto insurance rates for drivers who've had a DUI: American Family
A DUI can be costly, often doubling the cost of premiums with many insurers. If you've had a spotty driving record, consider American Family Insurance. Car insurance premiums reflect risk, so you won't qualify for the cheapest car insurance rates. But you might save more money by comparison to other insurers who weigh DUIs and moving violations more heavily.
You'll also find more ways to save with American Family's expansive assortment of discounts. The company indicates an average savings of 29% on auto insurance for customers who bundle auto and home coverage.
Best auto insurance rates for poor credit
The use of credit in setting auto insurance rates isn't allowed in all states. But in the states where this practice is allowed, credit can have a significant impact. Insurers don't use your credit score directly. Instead, they use a credit-based insurance score. In effect, insurers are measuring the likelihood that the policyholder will place a claim.
Compare Insurance Rates
Ensure you are getting the best rate for your insurance. Compare quotes from the top insurance companies.
With a credit-based insurance score, insurers don't affect your score when they make an inquiry. There is no request for new credit. Instead, the process is simply information gathering.
Expect insurers to run your score when you apply for coverage and periodically during your policy term in accordance with state laws. Rules vary from state to state, and some states don't allow insurers to adjust rates based on your insurance score.
Consider the following insurers if you have less-than-perfect credit but need the cheapest car insurance.
GEICO
Nationwide
USAA
Travelers
American Family
However, many factors can affect your rates for auto insurance. So, it doesn't hurt to expand your search to more providers. Some insurers may have higher rates for poor credit but offset that with discounts for safe driving, for example.
Factors that affect auto insurance rates
Auto insurance providers sometimes weigh thousands of individual rating factors to determine an auto insurance premium. However, some factors play a much more significant role than others. Here are some of the key areas insurers examine to rate risk and properly price an insurance policy.
Location
Where you live, work, and drive makes a difference to your car insurance rates. More congested areas can see higher rates. However, regional risks can play a role as well. For example, coastal areas may pay more for coverage due to more weather-related claims.
Age
Parents of teen drivers already know that insurers often charge higher premiums for young drivers. But insurance rates can also see increases over age 65.
Gender
Insurers look at statistics to understand risks for groups of people. Gender can play a role in rates. However, the comparison is more useful when age is also considered. Despite the common myth stating the opposite, women pay a bit more for auto insurance coverage on average.
Marital status
Married people often pay less for coverage. People don't often vow to have fewer accidents when getting married, but that's usually the result. It's also more cost-effective to have multiple people on the same policy in many cases.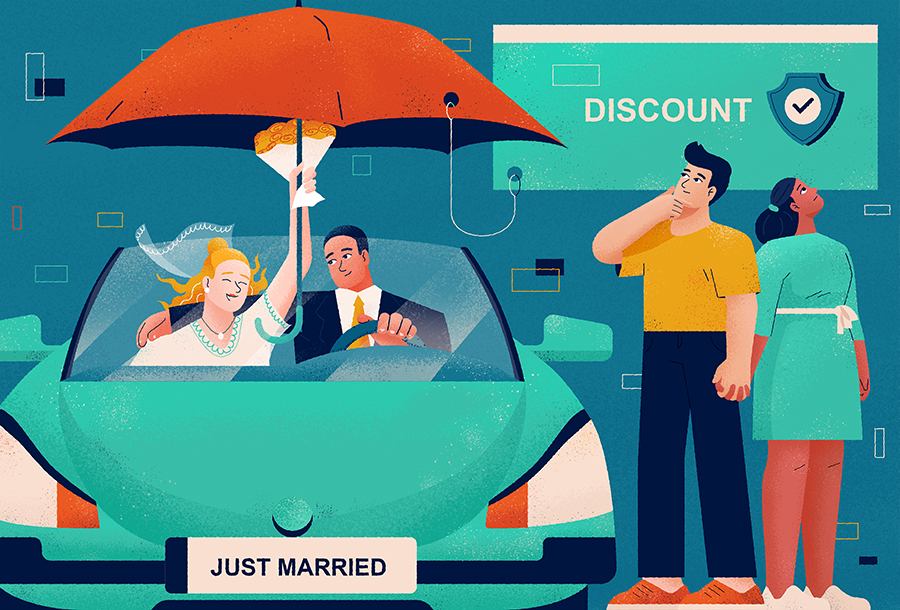 Driving experience
Some major insurers won't accept drivers with less than 3 years of driving experience unless they are added to an existing policy. In other cases, newly licensed drivers may pay more for coverage than someone with a similar risk profile who has been driving for decades.
Driving record
Accidents and moving violations can stay with you for up to 5 years as an insurance rating factor. Safer drivers, as measured by their driving record, earn lower auto insurance rates.
Claims/loss history
Insurance claims play a role in rates as well. On average, we have an auto accident about once every 18 years. But auto insurers usually look back about 5 years. Recent claims can cause rates to spike higher.
Credit history
You wouldn't think credit has much to do with insurance. But insurers have found a link between credit history and the likelihood of placing a claim. If you're shopping for the cheapest car insurance and you're in a state that allows credit as a rating factor, be careful to make payments on time.
Continuous insurance coverage
Insurers also consider how long you've had continuous coverage. A break in coverage of just a day can lead to higher rates with some carriers.
Vehicle type
The type of car you drive and its safety features come into play as well. But insurers also look at repair costs, theft rates, and other loss measurements.
Vehicle usage/mileage
Risk increases if you drive more. Expect higher rates as annual mileage increases. However, the inverse is also true. Many insurers offer low mileage discounts. Driving less can be a big part of earning the cheapest car insurance premiums.
Deductibles
The deductible is the part of the insurance claim that you pay. If you have a covered claim, the insurer will "deduct" your deductible from the amount they pay for the claim. For example, if you have a $2,000 covered claim with a $500 deductible, the insurer will pay $1,500.
Deductibles aren't a rating factor because they don't measure risk. Instead, with your deductible, you're assuming a part of the risk. Larger deductibles can lead to lower premiums. Conversely, smaller deductibles can increase the cost of coverage leading to higher auto insurance rates.
Discounts
Many types of discounts are common amongst insurers. For example, most insurers offer multi-policy discounts multi-vehicle discounts. However, these discounts can vary, ranging from 5% or less to 20% or even more.
The variety of discounts and the range of savings available from different insurers make comparison shopping a must. Often, you can find the cheapest car insurance for your family by comparing quotes and looking for additional ways to save through discounts.
Chosen coverages affect auto insurance rates
The coverage types you choose as well as the coverage limits you select also affect your auto insurance rates. For example, a liability-only policy meets the state requirements for coverage but won't protect your vehicle if it's damaged in an accident. And state-minimum coverage can leave you underinsured. Most drivers benefit from higher coverage limits. A basic policy is cheaper than a full coverage insurance policy, but sometimes the tradeoffs might not be justified.
We'd all like to find the cheapest car insurance, but often the best approach is to identify the coverage you need and then look for the most affordable provider that meets your coverage needs.
Compare insurance quotes from multiple providers before making your decision. Each insurer rates risks differently. Often, you can save money by switching.