The cost of car insurance shows a rising trend over the past decade. From 2014 to 2018, combined average premiums increased by nearly 21%.
Compare Insurance Rates
Ensure you are getting the best rate for your insurance. Compare quotes from the top insurance companies.
But if you look at a more recent time frame, the cost of auto coverage has fallen due to reduced usage over the past year. Changing work schedules due to the pandemic led to fewer miles driven for many households.
Several factors, such as annual mileage, can have a dramatic effect on car insurance rates. Other rating factors may have a lesser effect, but it all goes into the mix when setting premiums.
Learn how much you can expect to pay for coverage and which factors play the largest role in the cost of car insurance.
Car insurance costs vary by state
Your auto insurance premiums depend on many individual factors, including your driving record and the type of car you drive.
But in addition to individual rating factors, insurers consider costs unique to your state. According to the National Association of Insurance Commissioners (NAIC), rates can vary on a state or local level based on the following factors:
Weather
Traffic density
Vehicle theft rates
Accident rates
Repair costs in your area
Population density
Medical costs and medical coverage rules
Liability insurance requirements for your state
We can't control the weather or other rating factors in the list above, but they can contribute to the cost of car insurance because many affect risk. Other factors, such as medical coverage rules or liability requirements, can affect the base cost of a policy.
This means that your friends or relatives across the state border – or even in another city within your state – may be paying different rates than you based on where they live.
For example, theft rates affect the cost of car insurance for vehicles that have full coverage. A driver who lives in a city with higher vehicle theft rates may pay higher premiums compared to someone who lives in a more rural area.
The same principle applies to traffic density. More vehicles on the road also drive the risk of accidents higher. Areas with higher traffic density can see a higher average cost of car insurance.
To illustrate, drivers in Washington, D.C. pay premiums among the highest in the nation. The district is 100% urban, adding to both traffic density risk and theft rate risk. Liability insurance requirements in the city also rank higher than in many other states. These factors all contribute to the cost of car insurance, but none are within our individual control.
States with the lowest cost of car insurance
Below are the states with the lowest auto insurance costs. Full coverage, which includes comprehensive insurance and collision insurance, costs more than basic coverage, which may only include liability and (possibly) medical coverage.
Insurance cost data published by the NAIC lets us compare rates state by state:
States with the lowest full coverage costs
Maine: $782.72
Iowa: $816.18
Idaho: $828.32
Wisconsin: $830.06
North Dakota: $844.18
National average: $1189.64
Full coverage refers to liability insurance as well as comprehensive and collision insurance. In most cases, if you have a newer vehicle, you also have full coverage. Lenders and leasing companies typically require full coverage as a condition of your loan agreement.
States with the lowest liability-only coverage costs
North Dakota: $307.97
South Dakota: $333.44
Iowa: $348.87
Wyoming: $356.25
Maine: $374.59
National average: $644.11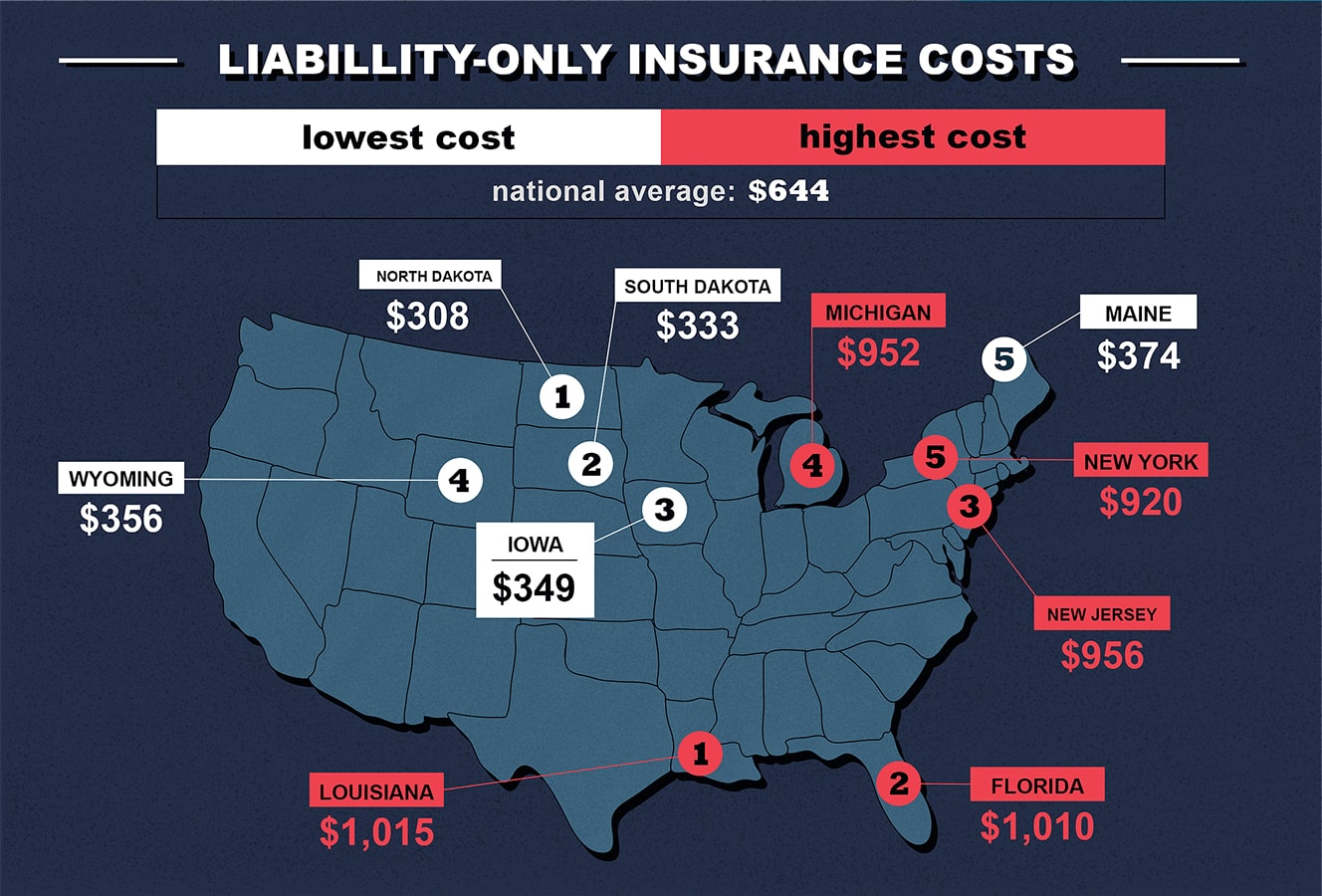 Liability insurance pays for auto-related injuries caused to others and damage caused to the property of others. In states with lower traffic density, like those in the list above, you can usually expect lower liability insurance costs.
However, that rule doesn't always hold true. For example, Florida and Louisiana have the highest liability insurance costs but both states have large rural areas as well as urban areas.
States with the lowest average cost of car insurance
Not all drivers carry full coverage, and many drivers customize their coverage by adding options or changing coverage limits. So, it's also useful to know how much drivers pay on average. The NAIC refers to this as average expenditure.
North Dakota: $686.08
Maine: $686.25
Iowa: $700.71
South Dakota: $721.67
Idaho: $722.06
National average: $1056.55
States with the highest cost of car insurance
Where you live plays a significant role in the cost of car insurance. States with higher population density often pay more for coverage.
However, other factors can influence rates as well. For example, Louisiana, a state with large rural populations, sees higher rates in part due to a higher rate of lawsuits. A higher-than-average rate of uninsured drivers also adds to costs in the Pelican State.
States with the highest full coverage costs
Louisiana: $1,751.37
Michigan: $1,590.35
District of Columbia: $1,574.09
New York: $1,558.66
Florida: $1,520.99
National average: $1189.64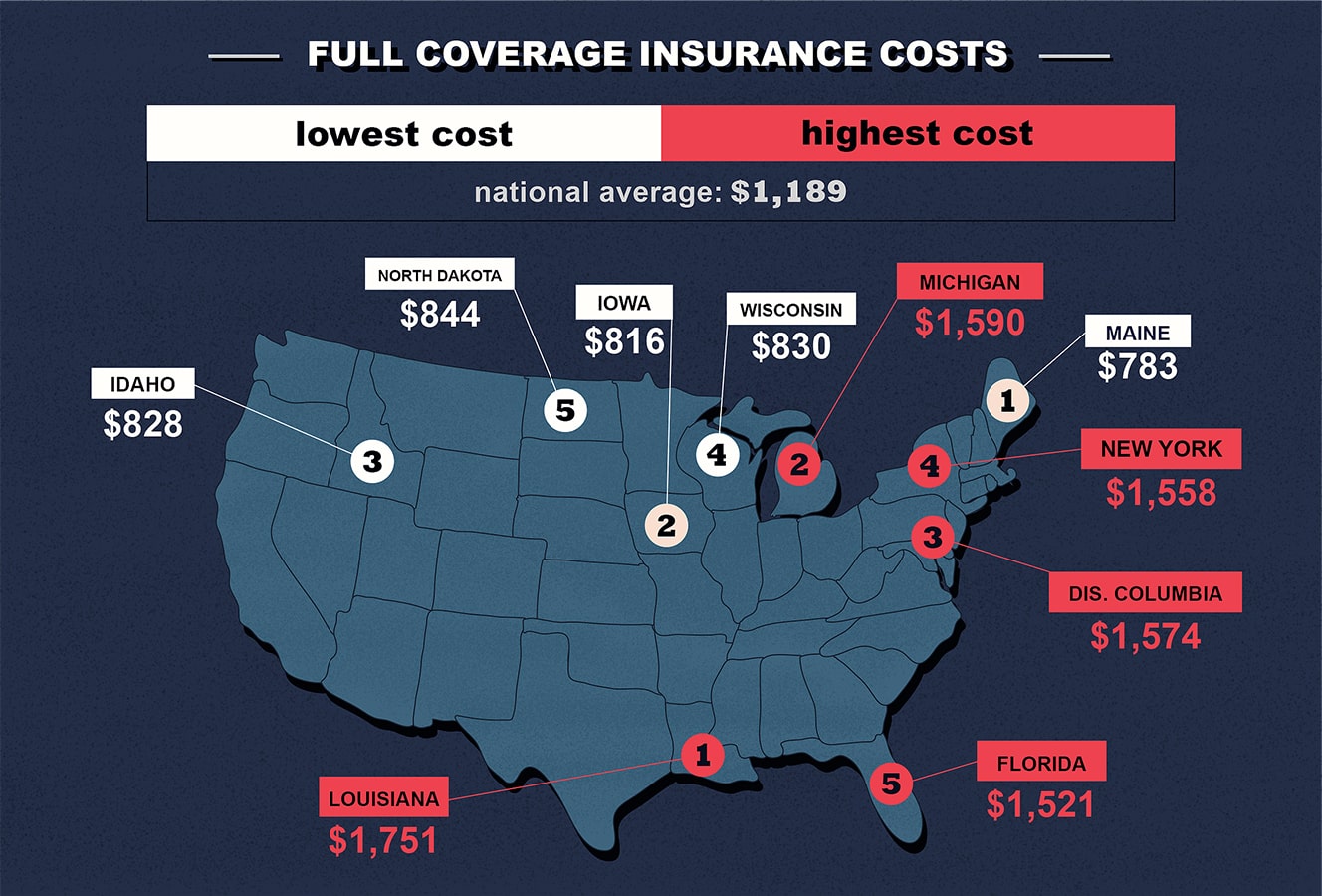 The average cost of car insurance in the states listed above includes liability insurance, comprehensive insurance, and collision insurance.
The NAIC calculates the average premium for each coverage type. The totals above represent the sum of these 3 coverage types.
However, not all drivers choose full coverage, and many drivers customize their coverage. So, the average cost may offer a better sample of state-by-state car insurance costs.
Compare Insurance Rates
Ensure you are getting the best rate for your insurance. Compare quotes from the top insurance companies.
States with the highest liability-only coverage costs
Louisiana: $1,015.36
Florida: $1,009.94
New Jersey: $955.93
Michigan: $952.15
New York: $920.25
National average: $644.11
Most states require liability insurance. However, collision insurance and comp coverage are not state mandates. Drivers with older vehicles often choose to purchase liability-only coverage. Some states may also require medical or other coverage types.
States with the highest average cost of car insurance
Louisiana: $1,545.82
Michigan: $1,469.73
District of Columbia: $1,429.43
Florida: $1,426.46
New York: $1,425.00
National average: $1,056.55
Average cost of car insurance nationwide
Data from the NAIC shows an average cost of car insurance for the entire county at $1,056.55 in 2018, an increase from $869.47 in 2014.
Newer data suggests this 22% increase is beginning to unwind in many areas as driving patterns change, however. According to the Insurance Information Institute, auto insurance companies refunded more than $14 billion in premiums to drivers in 2020.
The average cost for car insurance coverage types nationwide are as follows:
Liability-only: $644.11
Comprehensive only: $167.91
Collision only $377.62
Full coverage (liability + comprehensive + collision): $1,189.64
Average premium (a mix of liability-only and full coverage): $1,056.55
As you can see, liability insurance represents the single most expensive coverage type. But liability insurance may also represent the most important coverage you can buy. Damage to your car due to a collision or comprehensive risk is limited to the value of your vehicle. However, liability risks often reach tens or even hundreds of thousands of dollars. Liability exposure can increase dramatically if a driving mishap causes auto-related injuries.
Other coverages can affect car insurance costs
Other insurance costs can also come into play for motorists, depending on the state in which you live. For example, many states require personal injury protection (PIP), which pays for expenses related to an auto injury. Other states may require Med Pay, which scales back the scope of medical expenses but still provides some protection.
In addition, many states require uninsured/underinsured motorist (UM/UIM) protection. This coverage pays for injuries caused to you or damage caused to your vehicle if an uninsured or underinsured motorist causes injury or damage.
For example, in New Jersey (and several other states), the state requires a minimum of $5,000 in property damage liability insurance. If a motorist with minimum coverage totals your $30,000 car, your UIM coverage can pay the $25,000 shortfall.
Factors that affect the cost of car insurance
Where you live affects your rates, but insurers also look at individual rating factors to determine premiums.
Coverages and coverage limits: Liability insurance costs less than full coverage, so coverage types affect cost. But many drivers also customize their coverage, adjusting liability coverage or choosing add-on coverages such as road service protection.
Your age: Younger drivers often pay more than experienced drivers. However, many drivers may also see rates creep up as they enter their senior years.
Car make and model: Insurers look at accident rates for your vehicle as well as loss amounts, cost of repairs, and theft rates.
Your driving record: You may see higher rates if you have had a recent accident or traffic ticket. Over time, the negative effects of driving mishaps weigh less on your car insurance costs, however, assuming you maintain a clean driving record afterward.
Annual mileage: How many miles you drive annually can affect your rates. In recent years, the average mileage was about 15,000. Many insurers offer a discount for drivers with below average mileage.
Marital status: Often, married people pay less for coverage.
Gender: Your gender doesn't always play a big role in the cost of car insurance, but younger drivers may see a difference based on loss statistics for their gender.
Credit history: Most states allow insurers to consider your credit history when setting auto insurance rates. Insurers have found a correlation between credit performance and the likelihood of placing a claim.
Homeowner status: Homeowners may pay less than renters, assuming all other rating factors are equal.
Insurers look at the big picture
Insurers may look at thousands of variables when setting auto insurance premiums. With so many moving parts, your insurance costs can differ quite a bit from those of your friends and neighbors, even if you drive the same type of car.
Also, not all insurers rate risk the same way. Some insurance companies may be more forgiving of a recent traffic ticket. Some insurers may not place as much weight on credit histories.
Many insurance companies also offer extra discounts for married couples or for bundling your auto insurance with a home or renters policy.
In effect, your auto insurance premium reflects numerous factors and discounts that can drive rates higher or lower, making your premiums a reflection of your risk of making a claim as well as your coverage choices.
Compare car insurance rates from top insurance providers
Where you live plays a large role in the cost of car insurance. Individual risks, such as driving history and type of vehicle, also drive rates. But individual insurers often rate risk differently.
In many cases, you can save money by switching providers.
Some insurers also offer discounts that may be better suited to your unique coverage needs. For example, you might earn a multi-policy discount for bundling or earn an extra discount for being a member of the military or a group.
Often, you can lower your insurance costs without sacrificing the coverage you need by shopping around. Find out how much you can save on car insurance. Compare rates from top insurance providers for free.