Nobody likes to pay too much for car insurance, so many drivers look for the cheapest coverage. However, the cheapest choice might not always be the best choice. Rates can also vary by age or due to other factors. So, which insurer offers the most affordable car insurance can differ depending on your situation.
Compare Insurance Rates
Ensure you are getting the best rate for your insurance. Compare quotes from the top insurance companies.
Is the cheapest car insurance the best choice?
Cheap car insurance rates can be tempting. But remember the protection insurance provides. In many cases, the benefit of car insurance doesn't become apparent until you have a claim. After an accident, you'll want fast service and knowledgeable guidance.
The cheapest car insurance could suggest a compromise in other areas. However, this isn't always the case. Many times, you can save money without sacrificing the coverage you need.
Here are some other key factors to consider when choosing a car insurance company.
Claims handling: How does your chosen insurer handle claims? Are there limitations on where you can take your car for repair? Do they insist on cheaper aftermarket parts, or will they cover factory replacements? Will there be delays in claims processing? Ideally, you want to combine the cheapest car insurance rates with the best service. But you may have to make some concessions.
Financial strength: Most insurers have plenty of money in reserves to handle claims. However, some insurers can be pushed to their financial limits if a wave of claims comes in at once. For example, in areas affected by hurricanes, there can be situations in which tens of thousands of claims come in during a short period. Consider companies with top financial ratings.
Local agents: Much of the industry has moved to online services, but many drivers still find value in having local insurance agents. If you prefer to work with an agent in person or at least have the option to do so, look for insurers with a strong agent network.
Primary factors that can affect car insurance rates
There's no such thing as a cheapest car insurance company for everyone. There can, however, be a more affordable insurance company for a given risk profile.
Insurance companies look at a variety of factors that can drive rates up or down. With so many moving parts considered, your insurance rates can differ from other drivers your age, even if they drive the same type of car.
Some insurers look at thousands of data points. But certain factors have a more significant effect than others.
Here are some of the primary factors that can affect car insurance premiums.
Your age:
Younger drivers pay more for coverage. Expect rates to drop with many insurers as you reach age 20. But rates can fall again at age 25, continuing to become more affordable as you get older. With some car insurance companies, you can see a bump in rates again at age 70 to 75.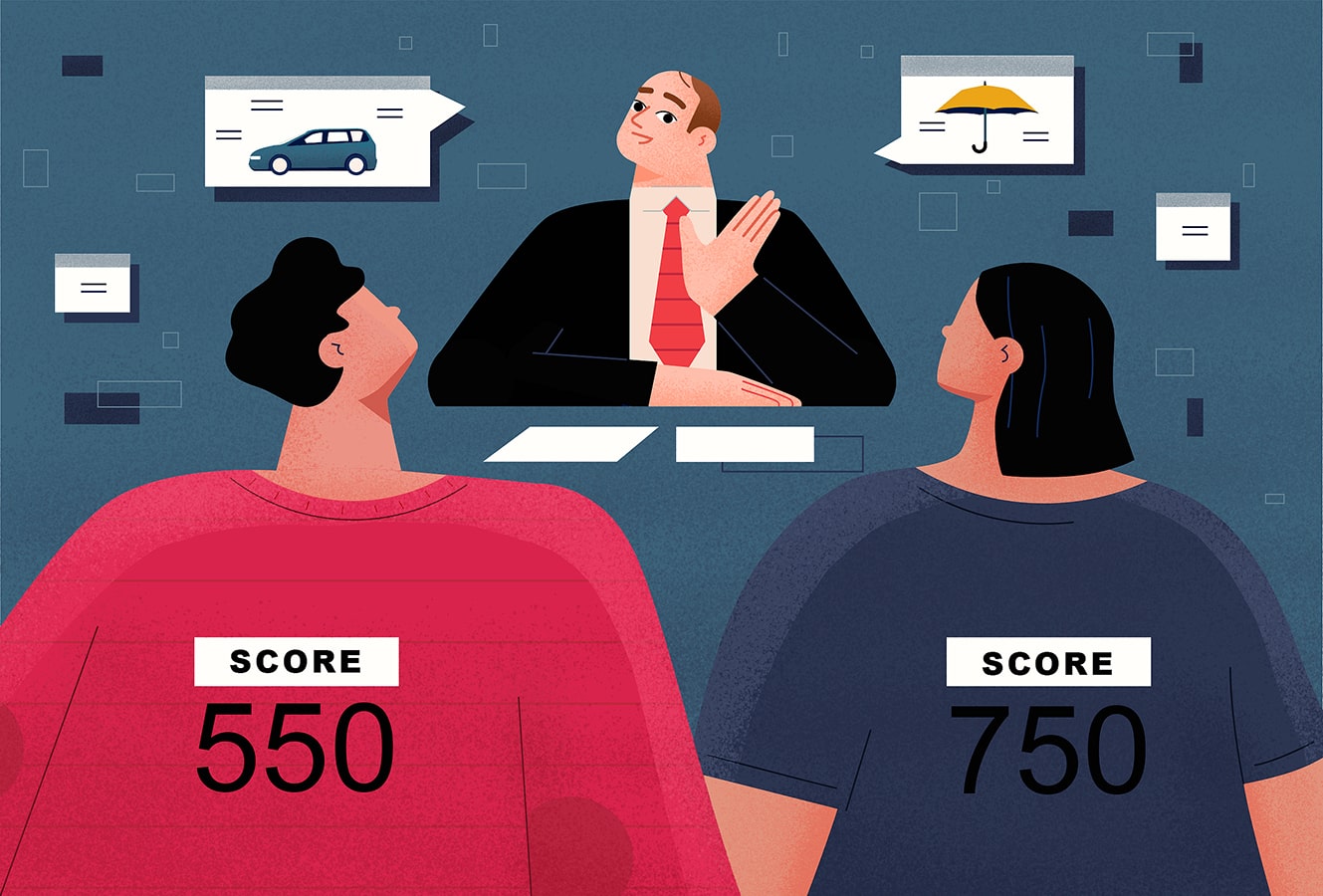 Your credit score/insurance score:
Most car insurance providers also look at credit history. Statistically, drivers with bad credit are more likely to place a claim, so rates may be higher. However, not all states allow insurers to use credit scores to set premiums. Also, some insurers don't weigh this factor as heavily. As a result, you might see big differences in insurance costs depending on which insurer you choose if you have less-than-perfect credit.
Your driving experience:
With some insurers, drivers with less than 3 years of experience might not qualify for individual coverage. However, they may be eligible for coverage on someone else's policy, such as a spouse or a parent's policy. Drivers with less driving experience might see higher premiums.
Driving history:
Accidents and moving violations often lead to higher car insurance rates. Exercise care on the roadways. A driving mishap can cause higher premiums for 3 to 5 years.
Location (city and state):
Where you drive can affect car insurance rates, with rural drivers seeing the cheapest rates and city drivers seeing the highest. State insurance requirements can also affect premiums. Some states require more types of coverage or higher liability limits, driving insurance costs higher as well.
Usage/annual mileage:
Lower annual mileage can add up to big savings. Many insurers offer a discount if your yearly mileage comes in at 7,500 miles or less.
Claims history:
If you've made a recent claim, expect higher rates with most insurers. Fortunately, a claim won't stay on your history forever. For example, a loss from more than 7 years ago won't appear on your C.L.U.E. auto report.
The vehicle you drive:
The vehicles on your policy can also drive premiums. Theft rates, repair costs, and accident statistics all go into the calculation. However, the safety features of your car can help reduce rates. If you're looking for the cheapest car insurance, consider getting some quotes before replacing a vehicle.
Your chosen coverages:
Some drivers choose basic liability coverage. Others choose full coverage and may even opt for higher liability limits. Today's auto policies offer several ways to customize your coverage. But if you select more options or higher coverage limits, premiums can be higher.
Cheapest car insurance company overall: USAA
Car insurance rates can differ based on individual rating factors. Young drivers may see higher rates compared to more experienced drivers. People with a spotty credit history can also see higher rates. However, each insurer weighs these factors differently. As a result, there can be a cheapest car insurance provider for a given situation.
In almost all cases, we found USAA to offer the lowest car insurance rates. But there's a catch.
USAA caters to military members. This requirement limits membership to servicepeople and veterans. However, USAA also extends membership to families of existing members, expanding membership eligibility to a broader group of households.
Compare Insurance Rates
Ensure you are getting the best rate for your insurance. Compare quotes from the top insurance companies.
Cheapest car insurance for less-than-perfect credit
Good credit often means lower insurance rates. But sometimes, bad credit happens to good people. If you suffer from some blemishes on your credit history, finding an insurance company that forgives credit imperfections can mean significant savings.
In most states, insurers can use your credit history to help determine premiums. In states that allow the practice, over 90 percent of insurers use credit history when setting rates. However, not every insurer places the same importance on good credit.
If your credit score needs some TLC, compare car insurance quotes to be sure you get the cheapest rates for the coverage you need.
Put these providers on your shopping list:
USAA: Although USAA focuses on military members and veterans, you can be eligible if you are related to a service member or veteran. USAA also offers home insurance, so you can also save by bundling coverage for home and auto insurance.
GEICO: You've probably seen ads touting overall car insurance savings with GEICO. In many cases, GEICO also offers drivers with bad credit shelter from higher rates. GEICO offers over a dozen auto discounts, giving you more ways to save.
Nationwide: Since 1925, Nationwide Insurance has protected American families and businesses, offering a wide range of insurance and financial products. Although not as well-known as some other insurers, this Ohio-based insurer lives up to its name by providing coverage across the country. If your credit is causing higher rates with other providers, consider getting a quote from Nationwide.
Farmers: You may not realize it, but Farmers is a group of insurance companies. This structure allows Farmers insurance to write coverage under the Farmers name or through one of its other companies. Drivers with bad credit can often get lower car insurance rates through Farmers or other insurers within the Farmers Group.
Cheapest car insurance for young drivers and new drivers
Car insurance can be a costly experience for young drivers, often doubling coverage costs for drivers under 25. However, some insurers offer more ways to save, translating to lower premiums for drivers just getting started on life's highway.
State Farm: As the largest auto insurer in the country, State Farm also offers some of the best ways to save money on car insurance. Young drivers benefit from a wealth of available discounts. State Farm offers good student discounts, student-away-at-school discounts, and driver education discounts. They also offer a unique Steer Clear program, which provides savings of up to 20% for safe drivers under age 25.
Cheapest car insurance if you've had an accident or ticket
Car insurance rates reflect your driving history. So, accidents, as well as moving violations, can lead to higher rates. If you've had a driving mishap, shop around to see which car insurance companies offer the lowest prices for the coverage you need.
USAA: You might find better rates with USAA if you've had an accident or a citation. However, this insurer isn't a perfect fit for everyone due to membership restrictions.
State Farm: Boasting more local agents than any other insurer, State Farm also offers a plethora of discounts that allow you to save even if you've had a fender-bender. An accident won't stay on your record forever, though. If you don't have an accident for 3 years, you can also earn State Farm's accident-free discount to save even more.
Cheapest car insurance for good drivers
Good drivers often pay less for car insurance. But by choosing the right car insurance company you can boost your savings.
USAA: Once again, USAA makes the shortlist for insurers to consider if you have a good driving record. USAA boasts an average savings of $725 for customers who switched.
GEICO: With 16 available discounts of up to 25% each, GEICO offers ways for nearly every driver to save. Drivers with a 5-year accident-free driving record can also save 22% with GEICO's good driver discount.
Coverage options that offer better protection
The cheapest car insurance won't always translate to the best coverage. Lower price quotes might include higher deductibles or lower coverage limits for liability. It's important to compare apples to apples and to choose the coverages your need when comparing rates.
Pay close attention to these coverage options when shopping:
Liability limits: Your liability coverage pays for auto-related bodily injury caused to others as well as damage caused to the property of others. Most agents recommend liability limits higher than the state-required minimum.
Medical coverage: Your auto policy can also cover medical care for you or your passengers. Ask your agent about your coverage options.
Deductibles: The deductible is the part of the claim you pay. A higher deductible can lead to lower premiums. But a higher deductible can also increase your out-of-pocket expenses if you have a claim. Review your options with your agent. In some cases, a lower deductible makes a wiser choice.
Compare rates to find the cheapest car insurance
Rates with an insurer can differ from one household to another, so it's important to shop around. By comparing quotes, you can find the lowest rates for car insurance without sacrificing the coverage types and limits you need.
In some cases, the best option might be a national insurer. In other cases, you might find the cheapest car insurance rates from a local or regional insurer. But insurance shopping has never been easier. You can compare car insurance quotes from multiple insurers from the comfort of your home.