Insurance rules differ from state to state, as do risks, so the average auto insurance cost for each state varies as well. Average rates can be useful for comparisons, however, and offer a way to estimate insurance costs.
Compare Insurance Rates
Ensure you are getting the best rate for your insurance. Compare quotes from the top insurance companies.
Businessinsider.com reports an average auto insurance cost approaching $2,400 annually for the entire US. Other sources report national averages of less than $2,000, with some lower than $1,600.
Which source is right?
They can all be correct, but the results depend on the data used to calculate the average. Lower averages likely focus on drivers with good credit. In some cases, they might also include more experienced drivers or focus on families that own their homes. Coverage choices play a role as well. All these factors can lead to lower rates.
Average Auto Insurance Cost by State
Each state appoints (or elects) an insurance commissioner. The commissioner's office oversees compliance with state insurance regulations but also gathers data. The National Association of Insurance Commissioners (NAIC) provides state-by-state data as well as national data. You can also find information on individual insurers.
The NAIC publishes the average auto insurance cost for each state, including liability insurance costs compared to full coverage insurance.
Nationwide, NAIC figures show a combined average premium of $1,189.64 in 2018, the most recent year for published data.
NAIC calculates the combined average premium by adding the average cost for:
Liability average premium
Collision average premium
Comprehensive average premium
Liability average premium
Liability insurance for auto pays for auto-related injuries caused to others and damage to the property of others. However, NAIC also bundles several other expenses in this grouping.
For example, in addition to liability coverage, this category also includes:
Uninsured/Underinsured Motorist Protection
Medical Payments for Driver and Passengers
Statutory Uninsured Motorist (Applicable to New York)
No-Fault or Personal Injury Protection
These common coverages differ from liability insurance but fit more closely with this grouping than collision or comprehensive coverage.
Nationwide, the liability average premium comes in at $644.11.
Collision average premium
Collision coverage pays for damage to your vehicle caused by contact with another vehicle or a stationary object, like a sign or a guardrail. This coverage also protects against damage due to vehicle rollovers.
The most recent figures published by the NAIC place the average auto insurance cost for collision premiums at $377.62.
Comprehensive average premium
Physical damage coverage includes collision coverage and comprehensive coverage, although you can choose these coverages separately on your auto insurance policy.
Comprehensive insurance, also known as "other than collision" insurance, protects against a wider range of risks. Damage caused by fire, floods, wind, and hail all fall under comprehensive insurance. Comp coverage also covers damage caused by falling objects, such as tree limbs or damage caused by accidents involving animals. Broken glass falls under comp insurance as well.
The most recent figures published by the NAIC place the average auto insurance cost for comprehensive premiums at $167.91.
Totaling these 3 types of premiums, you have an average auto insurance cost of $1189.64. However, this figure may still differ from what most motorists pay for auto insurance. For example, some motorists don't carry full coverage. Drivers with basic coverage may have lower rates.
It's also worth noting that data suggests a small decrease in auto insurance rates for 2021, largely because drivers have spent less time on the road due to the pandemic. That trend may be offset by increasing costs of materials and labor, however.
Why the national average auto insurance cost may differ from your cost
As one of the most common policy types, auto insurance receives the most scrutiny regarding rates. We, as consumers, watch rates closely because we receive monthly premium statements. Insurers manage rates closely because the industry is competitive. So, it's important to price risk accurately.
To price risk accurately, most insurers use a 6-month policy that allows more frequent adjustments. But they also look at more rating factors than they might for other policy types. Some insurers consider thousands of data points when setting auto insurance rates for an individual or household. Because insurers look at so many data points, your rates can differ from your neighbors, even if you work at the same building and drive the same kind of car.
State-by state auto insurance rating factors
Each state has its own insurance rules and requirements. Most states require liability insurance. But minimum liability insurance requirements can vary from state to state.
Compare Insurance Rates
Ensure you are getting the best rate for your insurance. Compare quotes from the top insurance companies.
For example, New Jersey and California require a minimum of $15,000 in per person bodily injury liability insurance. By contrast, several states require $50,000 in per person bodily injury liability coverage. Differences in requirements at the state level mean the average auto insurance cost varies by state.
Alaska, Maine, and Michigan all set the minimum coverage requirements at more than triple those of the states with the lowest liability requirements.
Medical coverage requirements vary from state to state as well. Some states require MedPay, a simple way to pay for auto-related injuries for you and your passengers. Other states require personal injury protection (PIP), a full-featured medical coverage option available regardless of who is at fault in an accident. A third group does not require medical coverage. Instead, you can use your existing health insurance. This option is also available in many states that require medical coverage on your auto policy.
Regional risks and state laws
Regional risks play a role as well. States with crowded roadways can pay more for coverage. But weather can also be a factor. For example, states where drivers commonly face hail or flooding can face higher rates.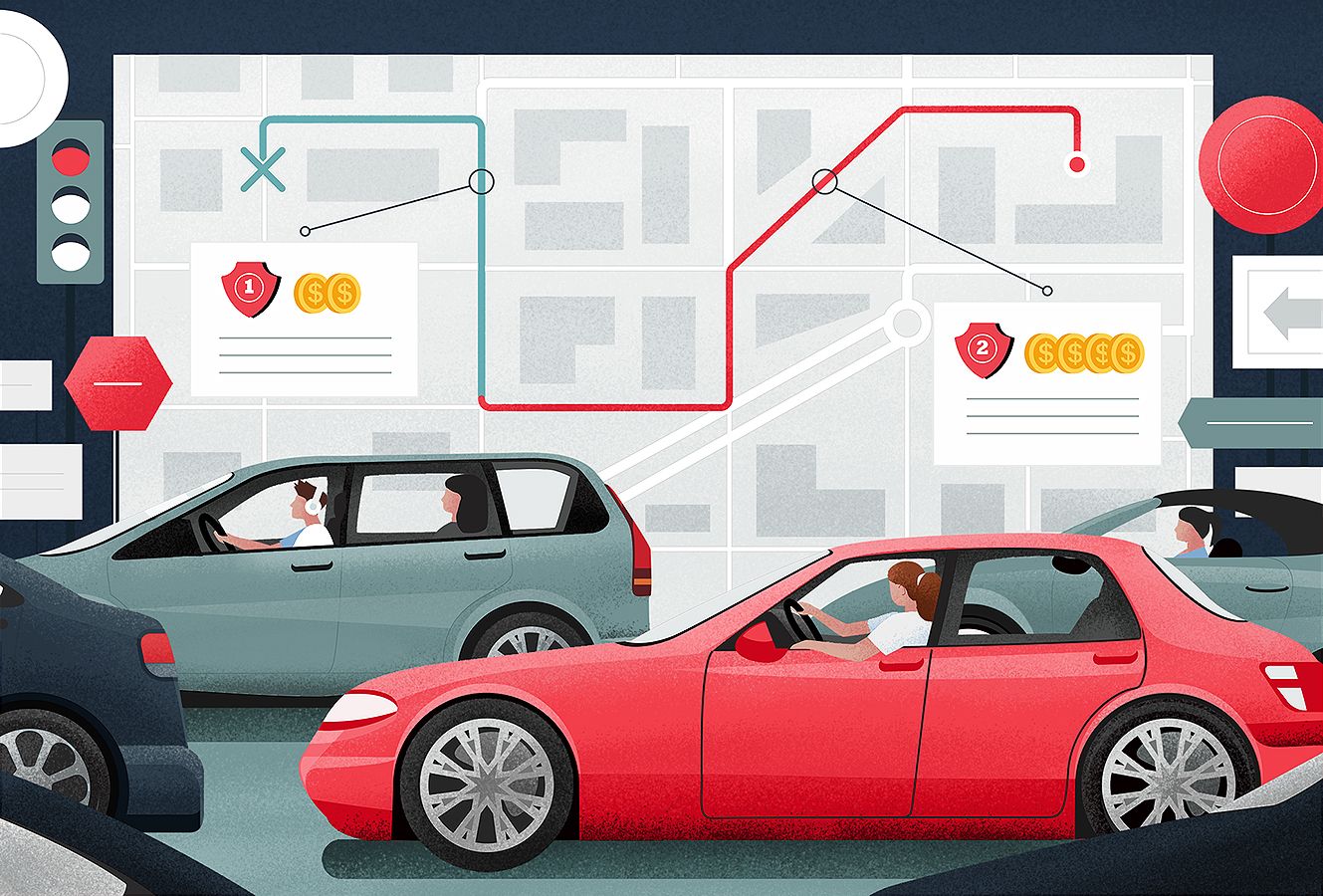 State laws surpass other factors in some cases, though. For example, Louisiana has the highest average auto insurance cost in the nation, according to data from the NAIC. Many attribute the higher cost of coverage to the state's insurance and legal climate, citing a higher-than-average number of uninsured drivers and more common auto litigation.
Drivers in Louisiana paid an average auto insurance cost of $1,731.57, according to NAIC data. But some sources put the average even higher, topping $3,000 annually.
Per vehicle auto insurance rating factors
Your vehicle and the coverage choices you make for your vehicle affect your premiums. At its core, insurance measures risk. But it also rewards safety. The vehicle you choose affects premiums in several key areas related to risk or safety:
Repair costs: Expensive parts can lead to higher insurance premiums.
Theft risk: Cars that attract thieves may have a higher average auto insurance cost.
Crash frequency: Some vehicles can cost more to insure simply because those vehicles experience accidents more often than average.
Safety features: The safety features of your vehicle protect your family. But they can also keep auto insurance premiums in check. However, insurers also consider the replacement cost of vehicle safety systems.
Bodily injury and property damage liability: Vehicles that cause more damage, on average, can cost more to insure.
Insurers consider frequency also consider frequency and severity, which overlaps with some of the factors listed above. Frequency refers to how often losses happen. Severity refers to how much a loss costs when it happens. For example, vehicles with 4-wheel disc brakes may have shorter stopping distances than those with rear drum brakes. This advantage can show itself in both a reduced frequency for rear-end auto accidents as well as a lower average severity (loss) per accident.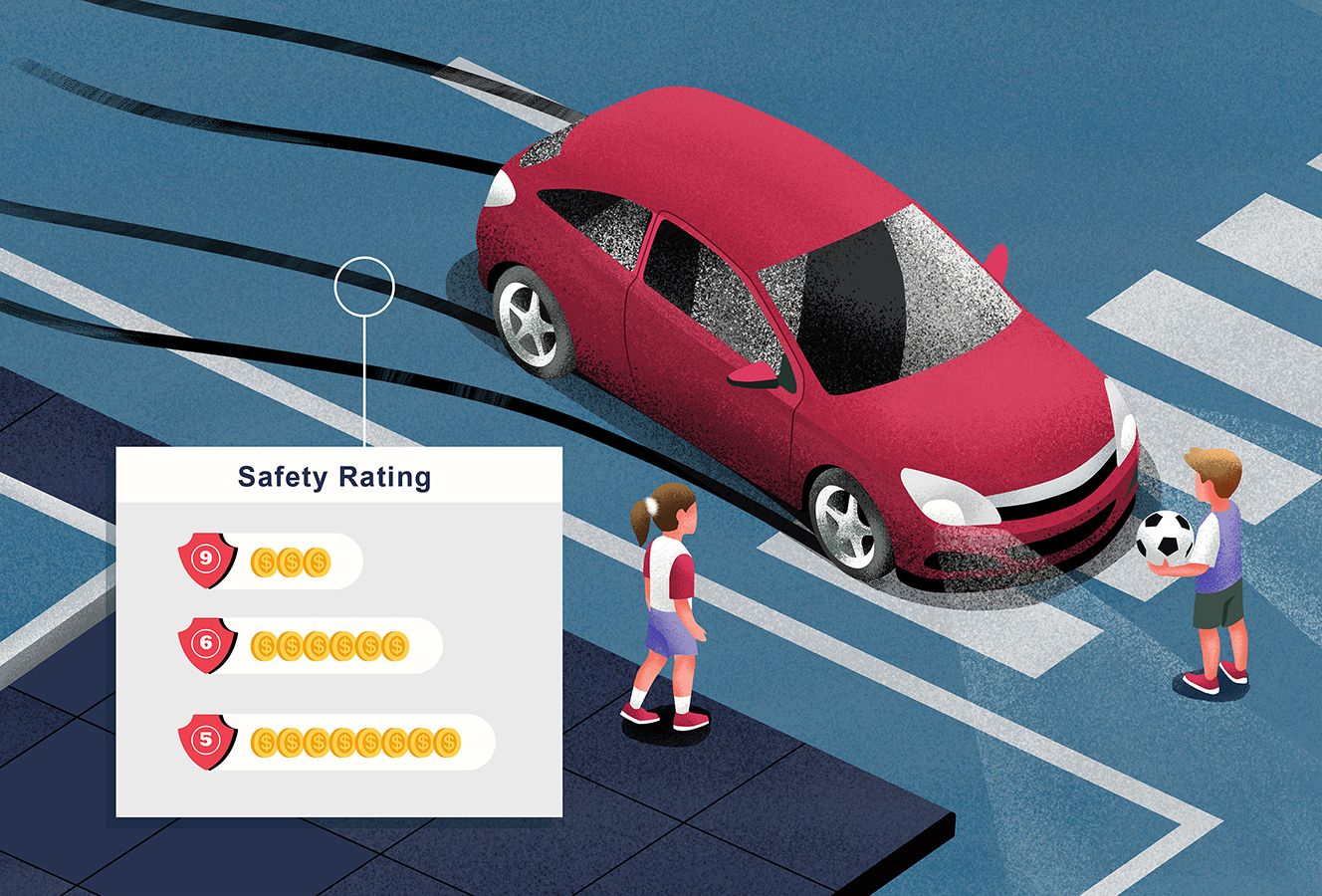 A vehicle equipped with 4-wheel disc brakes may also have a lower liability risk for bodily injury or property damage. Stopping faster means you may be able to minimize damage or perhaps avoid an accident altogether.
Coverage limits and coverage options
Coverage choices also drive premiums. Full coverage auto insurance, which includes liability as well as collision and comp coverage, costs more than a basic liability-only policy. But the coverage limits you choose can also change the amount to pay for auto insurance. State minimum required coverage costs less than a policy with higher liability limits. But the latter offers better protection, often justifying the higher price tag.
Individual auto insurance rating factors
State requirements and vehicle-related risk factors can affect rates, but individual rating factors can play an even larger role. Insurers rate you as a driver as well as other drivers on your policy. Some of the rating factors may surprise you, while others may be expected.
Here are some of the rating factors insurers consider when setting auto insurance rates:
Age
Gender
Marital status
Homeowner status
Credit history
Driving history
Claims history
Continuous coverage
Location
Annual mileage
Typically, 3 or 4 of these factors play a larger role in rates, however. For example, age can play a big role, with younger drivers paying more for coverage. In many cases, rates fall again when you reach age 25 but can also increase again in your senior years.
In most states, your credit history can also play a large role in determining auto insurance rates. Insurers have shown a correlation between credit history and the likelihood of placing an auto insurance claim. Motorists with a spotty credit history can pay more with many insurers because statistics show those motorists may be more likely to place a claim. However, several states prohibit the use of credit history to determine auto insurance rates. While a credit-based insurance score differs from your credit score in some ways, they also share some similarities. You may wish to check your credit report before shopping for insurance.
Driving history affects rates as well. For insurance rating purposes, accidents tend to affect the auto insurance rates for about 5 years, while many types of moving violations can affect auto insurance rates for about 3 years.
Ways to reduce your auto insurance premiums
The average auto insurance cost offers an interesting number to compare to your own rate. But average costs don't always have a strong bearing on the real-world prices we pay for coverage. Individual rating factors span such a wide gamut that insurance rates for your household can be nearly as unique as your thumbprint.
Learn how to lower car insurance premiums with our guide, which includes several money-saving strategies. Maximize savings without sacrificing coverage.
The road to insurance savings is built on basic safety in everyday driving. By avoiding accidents and moving violations, you're well on your way to lower auto insurance premiums. But it doesn't hurt to shop around as well. If you compare auto insurance quotes from multiple providers, you can often save money without cutting corners on the coverage you need.